The frame-chimney joint is the leading source of rain-induced infiltration into manholes. A common source of I & I into sewer systems is rain water that puddles around manhole covers in streets, parkways and creeks. Surface water during storm events penetrates through pavement cracks and enters the sewer system through the masonry, concrete or plastic adjusting rings. In addition to increasing treatment and transportation costs, the erosion it generates leads to severe road damage.

Sealing the chimney-frame joint can reduce I & I into systems as much as 50% during a 1″ rainfall. Chimney seals can permanently prevent water intrusion yet remain flexible enough to handle traffic loads, freeze-thaw cycles and frost heaving.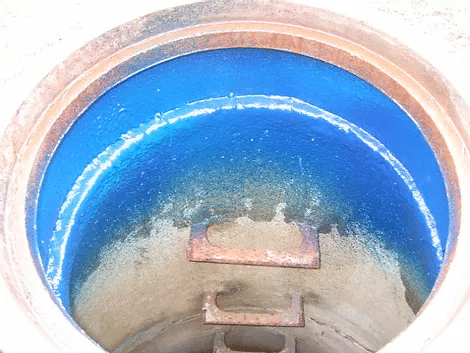 TopSeal is a cured-in-place internal seal for no-dig sealing of any size manhole. It is field-measured and cut to the full distance from the frame to the chimney in one piece. An ambient-cured liner is held in place with an inflated bladder until it cures in approximately 45 minutes. Proven performance in freeze-thaw conditions has been achieved with TopSeal. 
COR+FLEX® is an instant-set elastomeric urethane seal that is hand-sprayed from a twin cartridge, pneumatic-powered caulk gun from the casting over the adjusting rings to the cone. Components combine at the tip for precise mixing and quick application. It easily accommodates uneven surfaces and misaligned or steep chimneys. It fully covers the adjusting rings and remains flexible.
Lo-Primer – This rust-inhibitor primer can be used with COR+Flex® for sealing over concrete and steel. It has excellent resistance to chemicals, staining and solvents.
Interior Chimney Seal – Spray applied instant set two component membrane:
Abrasion Resistant
Thermal Resistant
Chemical Resistant
Weather Resistant
Excellent for Rehabilitation or Grade Adjustment Projects
Rust inhibitive Primer – Use with Cor+Flex:
Excellent sealing over concrete and steel
Thermal Resistant
Excellent resistance to chemicals, staining, & solvents