main to lateral cipp connection
extends up to
200ft

up lateral
LMK's T-Liner® is a one-piece homogenous main and lateral CIPP connection liner. Both the mainline and lateral sections are formed as a structural cylinder that renews 18-inches and 360-degrees of the mainline and extends up the lateral pipe as one continuous lining.
Portable Boss Bullett II Rotary Screw Air Compressor, 70 CFM rated delivery, 20hp Honda 4-cycle engine, 100 psi operating pressure rating, single stage oil flooded rotary screw, 80-115 psi operating pressure range, oil to air cooling system, 43″L x 31″ W x 35″ H. Weight 410 lbs. Equipped with 2 – 25 ft. 3/4″ air hoses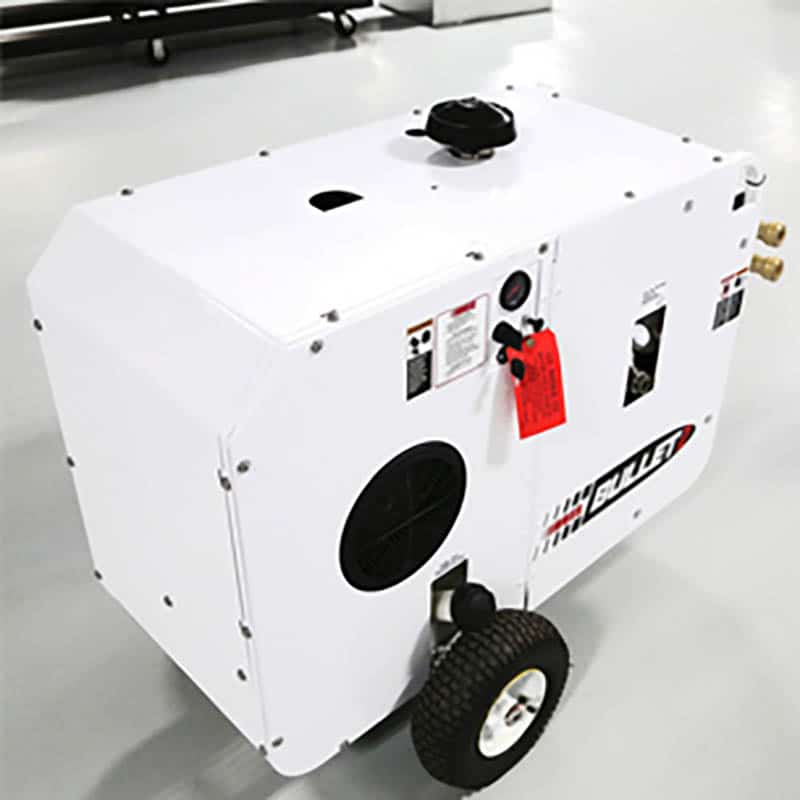 Hose Reel with Rotary Fluid Passage with high torque gear reduction pneumatic auto level wind. Fixed with 500′ of high tensile 1/2″ x 1/2″ Dual Bonded Hose, all mounted on a pneumatic heavy duty cart.
Mounted TV Monitor
Portable 2000 watt Honda Generator
Coax Cable Reel
First Aid Kit/Fire Extinguisher/Eye Wash Kit mounted on the cart
Bottom Roller and Adjustable Top Roller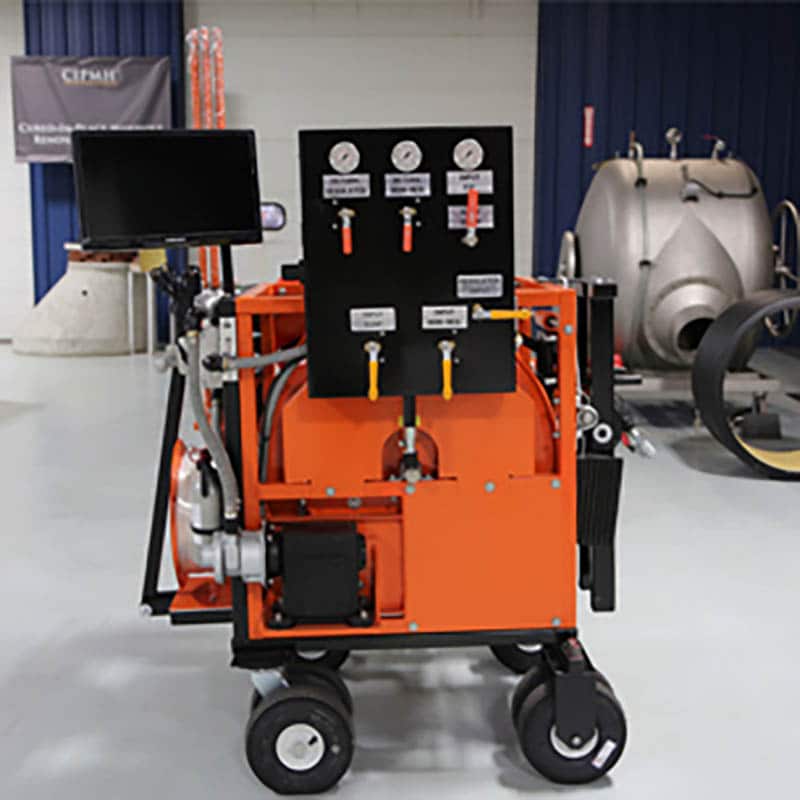 Electric, 115V with Remote Controller and 1000′ of 3/16 SST Cable
ROTATIONAL DEVICE WITH STANDALONE REWIND REEL
For positioning and rotating launcher/hose assembly to align with lateral opening. Use with Ambient Air Reel. Includes locking elements with cans and bladders for 8″, 10″ and 12″ diameter.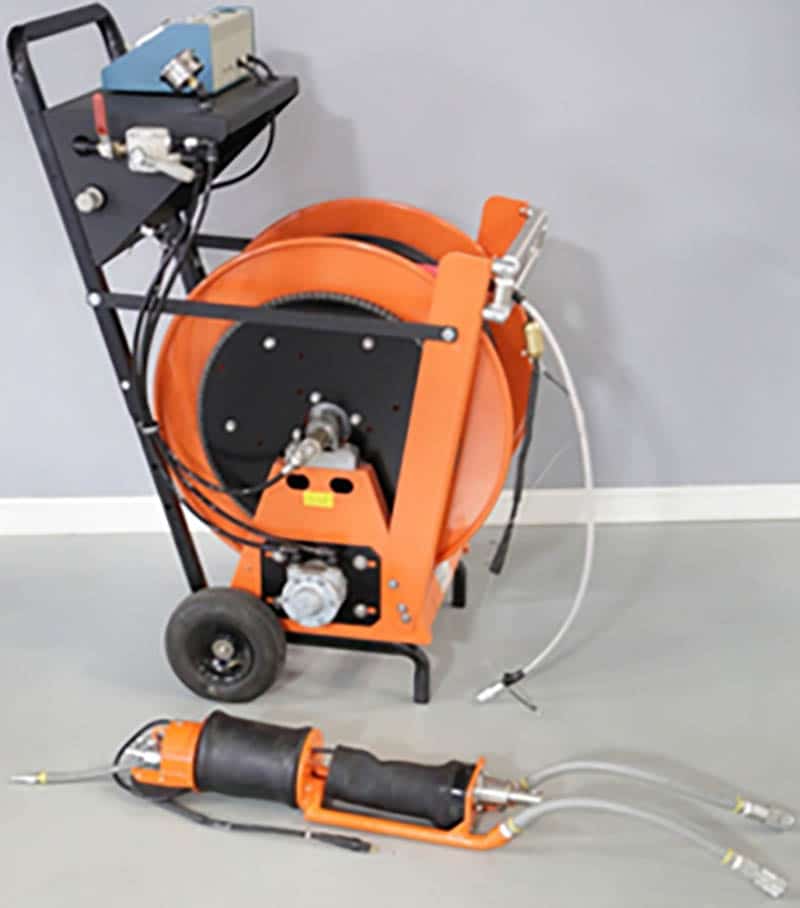 10′ Layflat Assembly for up to 5′ Liners 25′ Layflat Assembly for up to 20′ Liners Layflat Assembly Parts: Inversion Rope, 5/16″, Kevlar, Non-stretch, Single Braid White (To create a launcher set up order length of layflat hose x 2.5 plus 5 ft.- sold in 600′ sections) Clamps – 2 per end needed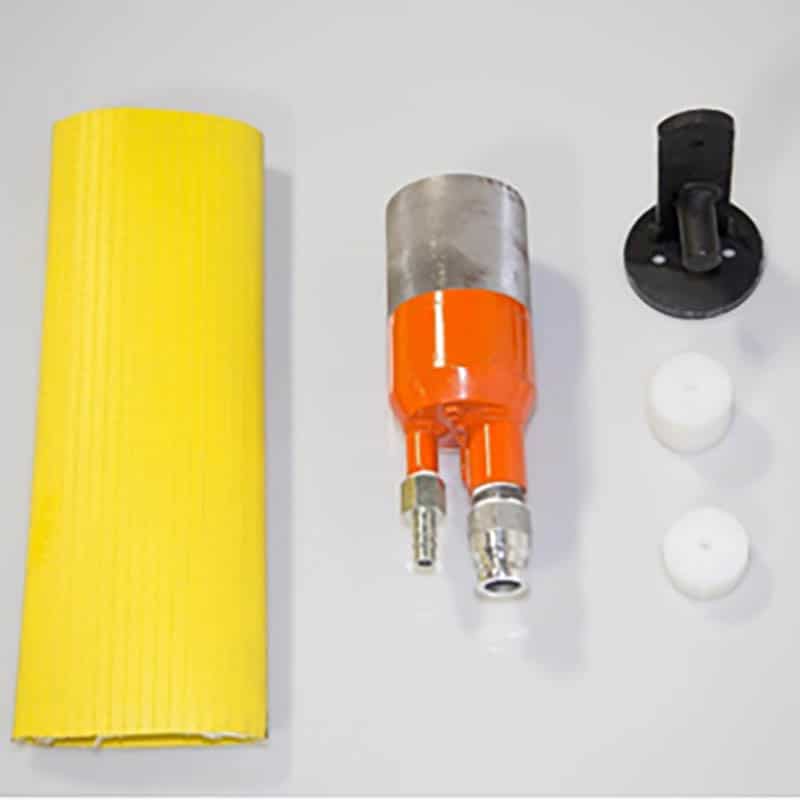 T-LAUNCHER FOR USE WITH 5-LINE EQUIPMENT
8 inch Non-Flow Thru T-Launcher with 5-Line Positioner Tab, includes male camlock and 18″ layflat hose assembly
10 inch Flow Thru T-Launcher with 5-Line Positioner Tab, includes male camlock and 18″ layflat hose assembly
12 inch Flow Thru T-Launcher with 5-Line Positioner Tab, includes male camlock and 18″ layflat hose assembly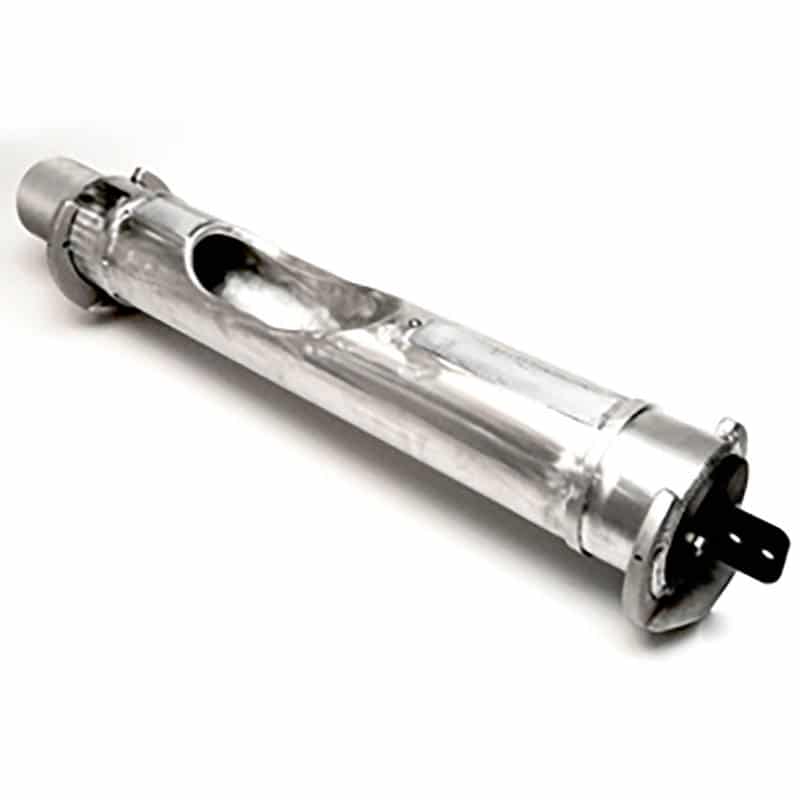 Push Plug, Cleanout, downstream, Steam "B" Station, with ½ inch flow thru, for 4″ – 6″ diameter pipes, hose and regulator assembly
Push Plug, Cleanout, upstream, non-flow thru, 3″ – 6″, with hose and regulator assembly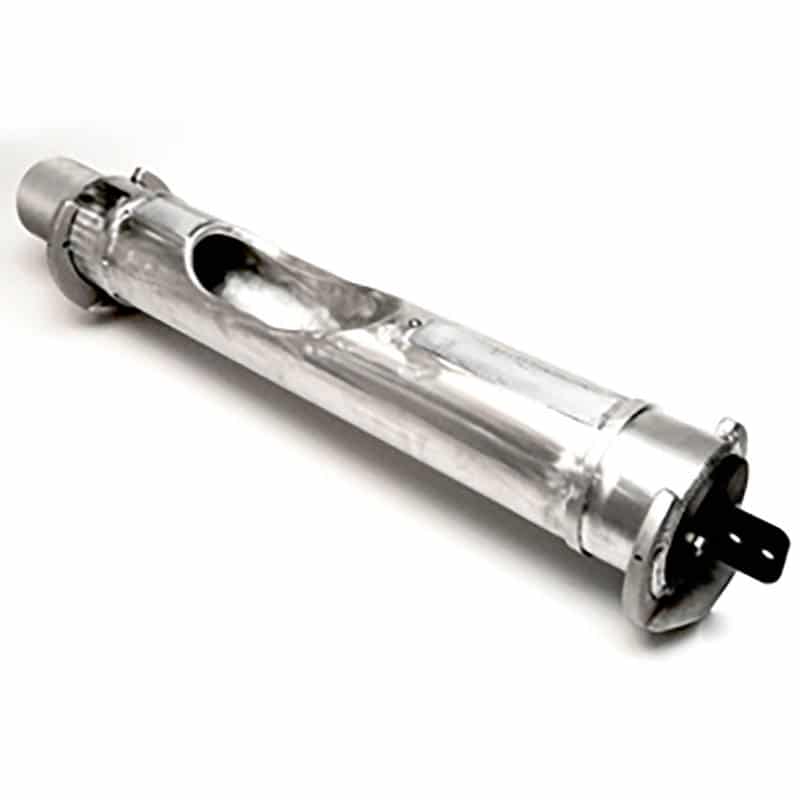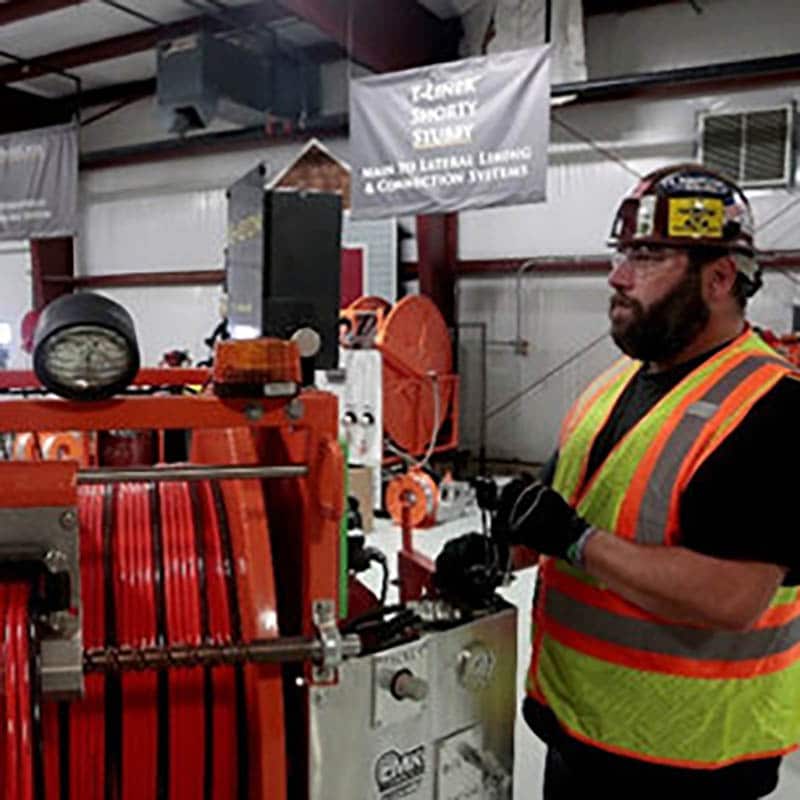 ASTM F2561
Standard Practice for Rehabilitation of a Sewer Service Lateral and Its Connection to the Main Using a One Piece Main and Lateral Cured-in-Place Liner
Significance and Use
Purchase the full version of this standard by visiting the ASTM website here. This practice is for use by designers and specifiers, regulatory agencies, owners, and inspection organizations who are involved in the rehabilitation of sewer service laterals and its connection to the main through the use of a resin-impregnated tube installed within an existing sewer lateral. As for any practice, modifications may be required for specific job conditions.
1. SCOPE
This practice covers requirements and test methods for the reconstruction of a sewer service lateral pipe having an inner diameter of 3 to 12 in. and its connection to the main pipe having an inner diameter of 6 to 24 in. without excavation. The lateral pipe is accessed remotely from the main pipe and from a lateral cleanout. This will be accomplished by the installation of a resin impregnated one-piece main and lateral cured in-place lining (MLCIPL) by means of air or water inflation and inversion. The MLCIPL is pressed against the host pipe by pressurizing a bladder and is held in place until the thermoset resins have cured. When cured, the MLCIPL shall be a continuous, one piece, tight fitting, corrosion resistant lining extending over a predetermined length of the lateral pipe and the adjacent section of the main pipe providing a verifiable non-leaking structural connection and seal.
The values stated in inch-pound units are to be regarded as the standard. The values given in parentheses are provided for information only.
There is no similar or equivalent ISO Standard.
This standard does not purport to address all of the safety concerns, if any, associated with its use. It is the responsibility of the user of this standard to establish appropriate safety and health practices and determine the applicability of regulatory limitations prior to use. Particular attention is drawn to those safety regulations and requirements involving entering into and working in confined spaces.
2. REFERENCED DOCUMENTS.
D1600 Terminology for Abbreviated Terms Relating to Plastics
D3681 Test Method for Chemical Resistance of "Fiberglass" (Glass-Fiber-Reinforced Thermosetting-Resin) Pipe in a Deflected Condition
D5813 Specification for Cured-In-Place Thermosetting Resin Sewer Piping Systems
D618 Practice for Conditioning Plastics for Testing
D790 Test Methods for Flexural Properties of Unreinforced and Reinforced Plastics and Electrical Insulating Materials
F1216 Practice for Rehabilitation of Existing Pipelines and Conduits by the Inversion and Curing of a Resin-Impregnated Tube
F412 Terminology Relating to Plastic Piping Systems
Recommended Specifications for Sewer Collection System Rehabilitation
INDEX TERMS
ambient cure; continuous; cured in place pipe; epoxy; felt; hydrophilic o-rings; inflation; inversion; knit; lateral identification; lateral pipe; lateral tube; launcher; liner/bladder assembly; main pipe; main sheet; main to lateral connection; MLCIPL; one-piece; resin; sewer lateral lines; sheet; steam cure; TEE; textile sheet; textile tube; transition; translucent bladder; tube; vacuum impregnate; WYE; ICS Number Code 93.030 (External sewerage systems)
DOI
DOI: 10.1520/F2561-17
For a copy of the ASTM F2561 Standard please visit www.astm.org