Protective coatings become necessary when biogenic corrosion is the problem such as industrial wastes. Biogenic corrosion is easily identified because it occurs where there is direct contact with the waste stream unlike MIC which occurs above the flows. Protective coatings require thorough cleaning and preparation of the damaged interior, plus proper and complete application of the coating. The Cor+Gard family of coatings provides chemical protection, ease of application and is highly resistant to a wide range of acid and temperatures (see chemical resistant chart).
Old surfaces are blasted clean to a sound substrate with our SpinWasher to remove any laitance that would interfere with adhesion followed with a ConmicShield® rinse to destroy any residual bacteria. For uniform, consistent and thorough coverage, Cor+Gard is applied from our bi-directional SpinCaster which eliminates pin holes and ensures proper application thickness. It may also be applied by brush, roller or spray gun. Cor+Gard is available in different formulations to match the specific project needs of chemical resistance and temperature.
Cor+Gard is fully compatible with PERMACAST® cementitous materials and together they form a composite of concrete and epoxy as they cure together.
Channel Line is used to quickly line manhole channels and benches in sewer systems. It provides corrosion protection, is rapid setting and moisture insensitive.
Cor+Gard B4 Primer is used for surface preparation prior to an expoxy application. It stands alone as a concrete sealer over damp and fresh masonry. It provides excellent resistance to chemicals, staining and solve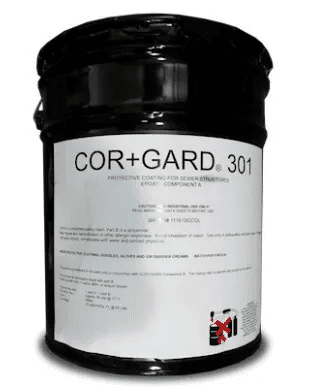 Corrosion protection in sewer systems:

Protection against hydrogen sulfide
Quickly forms bond to freshly applied mortar
Produces smooth, glossy, homogeneous layer
Corrosion protection in sewer systems:

Protection against hydrogen sulfide
Increased flexibility
Quickly forms bond to freshly applied mortar
Produces smooth, glossy, homogeneous layer
Corrosion protection in sewer systems:

Protection against hydrogen sulfide
3 to 1 ratio
Increased tensile strength
Quickly forms bond to freshly applied mortar
Produces smooth, glossy, homogeneous layer
Corrosion protection in sewer systems:

NOVOLAC based epoxy
Provides excellent resistance to concentrated sulfuric acid
Corrosion protection in sewer systems:

Quickly line manhole channels and benches
Rapid setting, high strength
Moisture insensitive
Surface preparation prior to epoxy application:

New solvent-free technology
Excellent sealing over fresh concrete and damp masonry
Stands alone as a concrete sealer
Excellent resistance to chemicals, staining, & solvents
Increased window of main coating application