Perma-Liner™ (PLI) and LMK Technologies are both proud North American distributors for the full line of Picote trenchless tools.
Picote Solutions has a growing range of products including reinstatement cutters such as the Smart Cutter, Twister, and Special Drill Heads.  Utilizing a variety of cutter sizes when combined with a Picote Miller it can reinstate CIPP patches and liners with diameters between 1 ¼"-12". 
Picote: Advancing the trenchless industry forward
As a global innovator and manufacturer of trenchless tools, Picote Solutions, Life for Pipes, is truly passionate about advancing the trenchless industry through innovation and education. The expertise of the CIPP Lining Team enables testing of new products at their own worksites before launching to the market.
The Maxi Power + is for tough jobs
Features:
​

-18m/59ft of 18mm / ¾" shaft which can be extended by 10m / 32ft
-Suitable for heavy duty drain cleaning with Picote Original and Cyclone chains
-Fast reinstatements with the Smart Cutter™
and Twister 
-Tough descaling with the Smart Spider
-Challenging liner removal with the special Smart Crusher and Smart Sweeper tools
-For DN150 – DN300 / 6″ – 12″pipes
-Can be used in DN100 / 4″ straight pipes
-3-phase 16 amp 400v / 3.5kw / 1800rpm
-Electric motor & safety clutch.
-Control box can be detached and operated from access point
Requires Picote Generator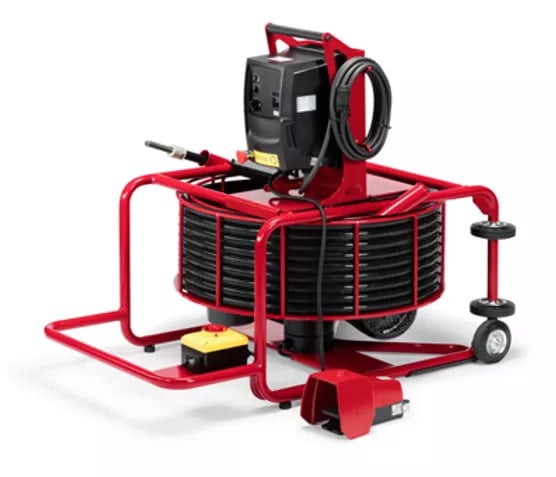 The Maxi Miller is a durable machine.
Features:
-30m/100ft of 12mm / ½" shaft with thick outer casing.
-Suitable for drain cleaning & powering the Smart Cutter™, Twister, Collapsed Liner Twister and the Pipe Cutter.
-Suitable for the new Smart Spider.
-For DN100 – DN200 / 4″ – 8″pipes.
-Weighs 95kg / 210 lb
-1400rpm, 1130w output.
-Electric motor & safety clutch.
May require generator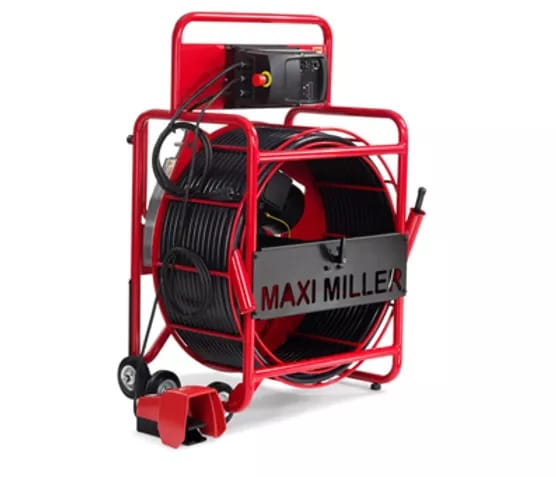 The Super Midi Miller replaces the older a Midi Miller with powerful upgrades for drain cleaning and reinstatements from DN70/3" to DN150/6".
The Super Midi has an electric safety clutch. It comes with the same powerful control box as Picote's Maxi Miller and Maxi Power+.
In addition to increased efficiency and safety, the Super Midi has a 20m / 65ft range with the option of adding a 10m / 32ft extension.
Go further in distance, efficiency & safety!
Features:
– Excellent combination of safety, force & movability
– 20m / 65ft range with an option to add a 10m / 32ft extension
– Digital control box & electric safety clutch
– A multi-use machine for heavy descaling, pipe cleaning & reinstatements
– Ideal for work inside buildings: Regular outer casing for 12mm/½" shaft allows added flexibility through bends
– Ease of use & practicality: – run the 110v/15amp U.S. model from a house connection in the U.S. – run the 110v/16amp UK model from a house connection in UK with the use of a transformer.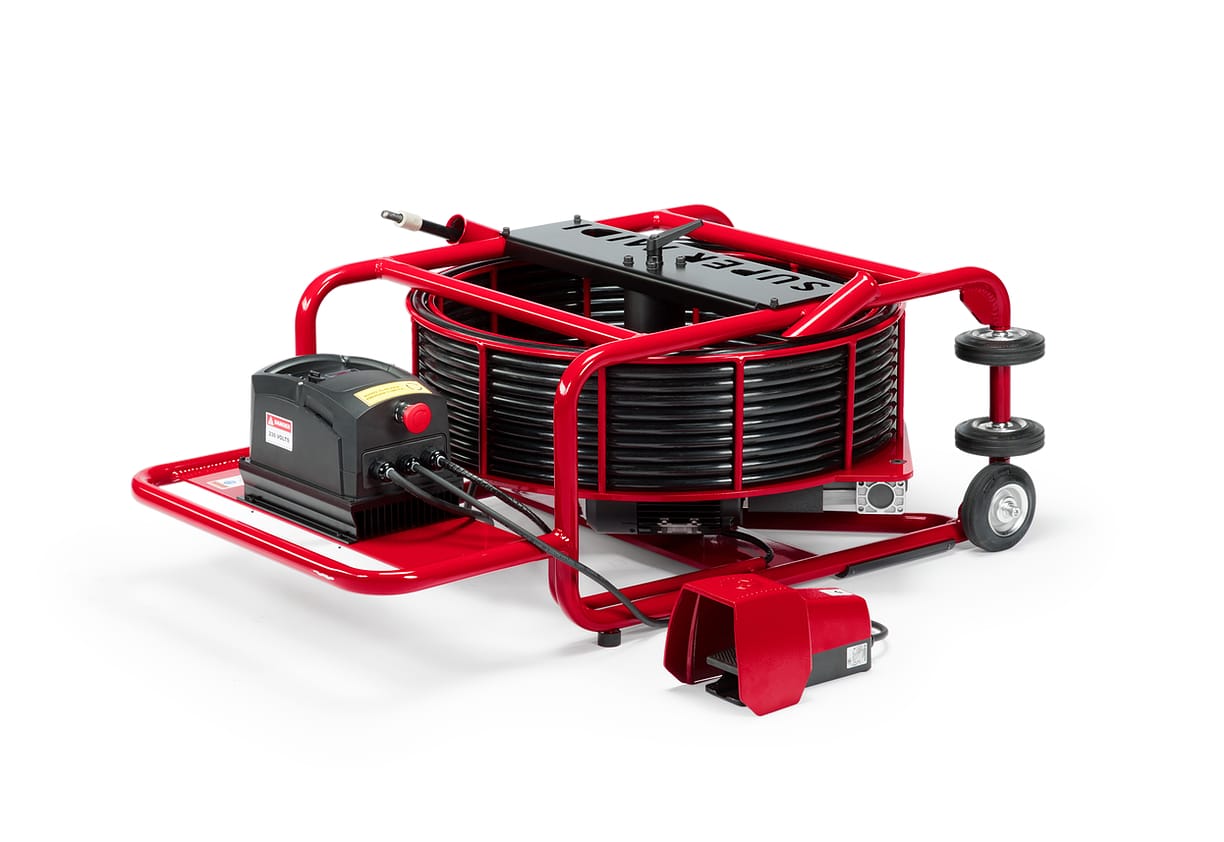 The Mini Miller is a high-speed and high torque machine designed for cleaning, descaling and removing roots in DN50 to DN100 / 2″ to 4″ pipes.
Suitable for reinstatements inside DN50 and DN70 / 2″ and 3″ pipes.
Add the Mini Pump to brush coat DN50 to DN150 / 2″ to 6″ pipes.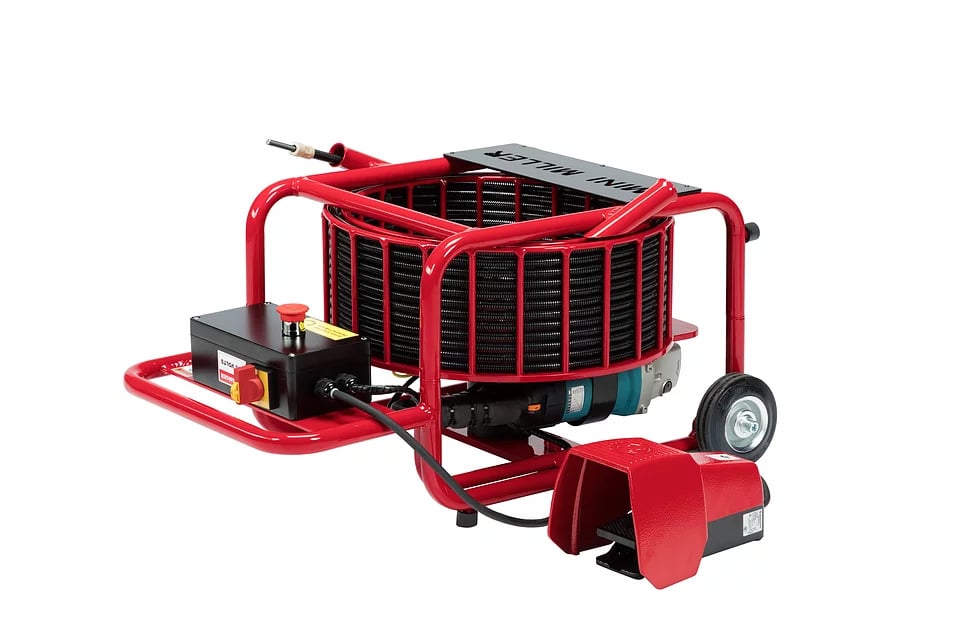 Mini Miller +C with integrated CCTV Camera
The Picote Mini Miller +C units feature an integrated 30m (98′) color camera that makes viewing of cleaning and cutting jobs easier and helps to make Picote Brush Coating setup even simpler.
The Mini Miller +C color, self-leveling camera head has a 512hz integrated sonde while the Mini Cleaner +C features a smaller color camera head that allows it to follow the Mini Cleaner through DN50(2″) P-Traps and bends.