When the structural value of the old manhole wall is lost, the best option is total replacement without digging. Full-depth excavation for replacement or partial-depth excavation for rigid liner insertion requires pavement replacement, social disruption and by-passing of sewer flows. The best trenchless replacement option with no ill effects is to pour a new concrete manhole fully within the existing manhole.
PERMACAST® pours a new concrete manhole and permits the internal assembly of steel forms conforming to the interior dimensions rising through the eccentric or concentric cone or flat top then vibrating high strength concrete into the three inch annulus between the forms and the old wall thus building a new manhole within the old. Wherever the old wall is weakest, the new wall is thickest. Both corrosion and chemical protection are available with Cor+Gard® , embedded plastic liners, or ConShield® additive in the concrete
Structural liners are engineered to reinforce, seal and protect existing brick, block or precast concrete manholes. The Engineering Design Guide specifies the material strength and thickness required to double the life of weakened manholes as determined by its depth, ground water pressure, traffic loads, shape and condition.
PERMACAST® Structural Liners are made of specially formulated fiber reinforced cements engineered for underground sewer structures. Design specifications aid in the selection of the best material for each particular problem. Our systems are installed by our factory trained and certified network of applicators. Our patented process allows for bi-directional centrifugal compaction applied uniformly from top to bottom for consistent thickness and easy inspector verification.
Advantages:
Uniform application
Densely compacted
Safe operation
Precise thickness
Reference Documents:
Contact us for Design Specification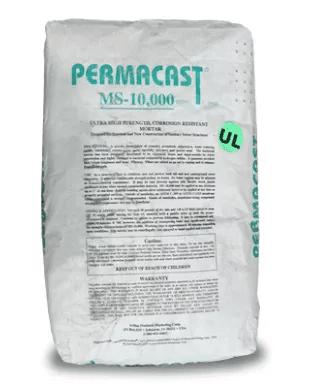 Structure renewal of manholes, underground sewer systems:
High strength and corrosion resistant
Quick, economical and uniform layer
Provides waterproofing, sealing, structural reinforcement of existing manholes
MS-10,000 WITH CONMICSHIELD
MS-10,000 Fortified with an Anti-bacterial additive:
Revolutionary product prevents the acid-producing bacteria Thiobacillus from colonizing into concentrations that produce sulfuric acid.
Corrosion resistant mortar based on calcium aluminate
Designed to resist biogenic corrosion
Sole protection aggressive elements
Does not sag or run after placement
Hardens quickly and matures after 24 hours
Fully reactive aggregate
Corrosion resistant mortar based on calcium aluminate cement
Designed to resist biogenic corrosion
Sole protection aggressive elements
Does not sag or run after placement
Hardens quickly and matures after 24 hours
Pure quartz silica aggregate
Structure renewal of strom water catch basins. Rapid setting, shrinkage compensated repair mortar.
Ultra high strength and corrosion resistant
Quick, economical and uniform layer
Reduced chloride ion penetration
Provides waterproofing, sealing, structural reinforcement of storm water catch basins
Corrosion resistant mortar based on calcium aluminate
Designed to resist biogenic corrosion
Sole protection aggressive elements
Does not sag or run after placement
Hardens quickly and matures after 24 hours
Fully reactive aggregate
High Build underlayment
Designed to provide a thick underlayment that fills mortar joints, cracks and voids in brick and masonry manholes
Corrosion protection and structural repair in sewer systems
High build polymer repair mortar, applied 1/8″ to 3/8″ thick
Spot mortar repair
Bridge for binding new to old concrete
Crack Repair
Bench repair